Scones of the River District
Spring

The River District is home to many cafés and eateries all independently owned, offering treats and eats of all kinds. To highlight some of the local fares we at the River District have identified one common offering; Enter The Scone.
Scones are a humble food hailing from across the pond. The exact origin can't be pinpointed but the first known print reference was in 1513 by a Scottish poet. The basic recipe calls for nothing more than grain, fat, and milk but customization options are endless. Family recipes have been handed down for generations and variations can now be found all over the world. Enjoyed sweet or savoury, at breakfast or teatime, this diverse fan favourite is a royal among the River District.
Now we call on you, to determine which River District scone reigns supreme (at least for this year and based on one flavour per business). We undertook the arduous task of searching out these scones and reviewing them so you can best plan your attack when trying them yourself. It's now up to you, go out and savour the scones listed below and judge for yourself. Come back and vote for the Owen Sound River District Best Scone.
On top of having an excuse to try all these incredible scones, every vote will be entered into a draw for a $100 River District Gift Certificate, PLUS when you tag your favourite scone business on social media (make sure to also tag @RiverDistrictOS) you'll receive a ballot into a draw for another $100 River District Gift Certificate.
So, support your local businesses, go out and buy a scone, take a picture, tag the business, tag @RiverDistrictOS and vote with the button below!
Congratulations to our 2022 winners Sugar Dust for their entry of a Lemon Cranberry Scone! We look forward to a rematch in 2023 so get your scones ready!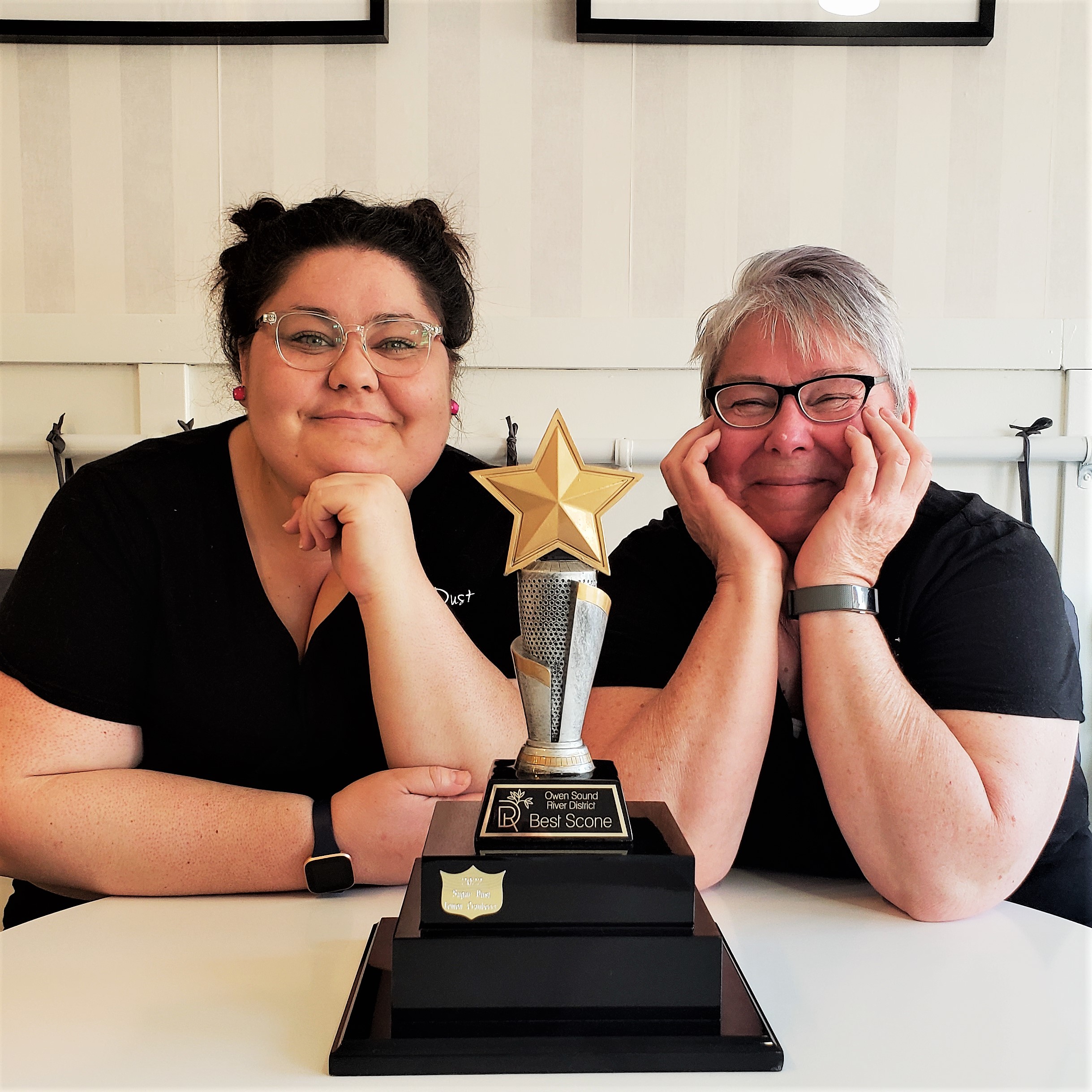 For full contest rules please see the bottom of the page.
Frog Ponds Café

Location: 209 8th Street East, Owen Sound

Baker: Frog Pond Team

Flavour: White Chocolate Raspberry

Shape: Cut Triangle

Topping: Royal icing drizzle, a dusting of icing sugar

This is the Frog Ponds best-selling scone and it's easy to see why. This scone is as beautiful as it is tasty. The contrast of the brilliant red raspberries against the perfectly bronzed shell with the addition of snow-white drizzle and the softest dusting of icing sugar is a visual symphony. Your senses are at an all-time high before you even take your first bite.

Breaking this scone open was like unwrapping a gift. It was then you see all the little white chocolate spheres lending to the sweet flavour profile. Upon inspection of the dough, you can see the tender texture. This scone is moist and dense but not cakey, it is delicate but not fragile and does not crumble as you eat it. The addition of the fruit to the dough adds additional moisture and richness but they have managed to maintain pockets of raspberries without them melting too much into the dough and staining the overall colour.

This is a simple recipe utilizing simple ingredients like all-purpose flour and butter, but it is expertly executed.

Sugar Dust

Location: 271 9th Street East, Owen Sound

Baker: Paula

Flavour: Lemon Cranberry

Shape: Cut Triangle

Topping: Lemon glaze & turbinado sugar

If sunshine had a flavour it would taste like the lemon cranberry scone from Sugar Dust. These baked marvels are so bright you can see them in a dark room. Sun kissed on the outside and perfectly crisp with a lemon drizzle that immediately causes your mouth to salivate. The addition of turbinado sugar sprinkled over the naturally occurring peaks and valleys add a golden hue and the promise of a forthcoming crunch.

Upon first bite, you are met with a tart note that is subdued by the rich flavour of the dough and sweetened by the lemon glaze. Jana Kingsford said, "Balance is not something you find, it's something you create." And while they were referencing life in general this scone is the perfect representation of a created balance. This scone is dense and rich with just the right level of moisture. Perfectly pleasing for a crowd. Eaten for breakfast or brunch or even a light dessert.

It's so easy to see why you need to order ahead or show up early to get one of these.

Birgit's Bakery Café

Location: 948 2nd Avenue East, Owen Sound

Baker: Kitchen Witches

Flavour: Garlic Cheese & Herb

Shape: Cut Triangle

Topping: Italian herb blend

Our single savoury entry this year is a strong enough contender to hold its own. Golden brown to perfection with a glistening overlay of Italian herbs. The edges are adorned with crunchy escaped cheese that has transformed into a decadent tuile. The aroma is reminiscent of something from childhood. Warm and comforting this is the hug of the scone world.

Breaking this masterpiece open you immediately get transported to your family kitchen. The subtle hints of garlic add bursts of moisture and flavour. This scone would pair well with cured meats or a peppery green such as arugula with balsamic vinegar. If you are a savoury lover, you can enjoy this scone at any time of the day.

Made with organic spelt flour, organic cane sugar with local butter when available Birgit's also incorporates a low or no waste policy making these scones hyper-local and good for the world.

The Palette Café

Location: 938 2nd Avenue East, Owen Sound inside The Georgian Bay Centre for the Arts

Baker: Eric Wolfe recipe by Marnie Weiss

Flavour: Lemon Currant

Shape: Disk to cut triangle

Topping: no discernible topping, perhaps brushed with a sweetened milk

When the word scone escapes your lips, this is what is pictured. Close your eyes and you can see this scone served up fresh and warm on a long wooden dining table. Presented on mismatched antique dinnerware with fresh whipped butter or crème fraiche and fruit collected from the family farm that morning. This is a recipe that would have been handed down for generations. Simple, humble, and to the point, there is nothing fussy about this scone and it delivers on every single expectation.

Baking the scone as a disk allows the moisture to remain in place making this scone almost cake like while maintaining the correct crumb the scone requires. The whispers of lemon zest and the piquant flavour of the currant bring a brightness to the subtly sweet dough. An elegantly crisp crust brings a textural element that makes this scone exquisite. Perfect for serving at breakfast or if you host teatime which for many of us is a mid-afternoon tea or coffee break with a little snack, luckily the Palette Café serves both tea and coffee making this a one-stop-shop for your afternoon nosh.

Sweet Things from DeJong Acres

Location: 88 8th Street East, Owen Sound, inside the Owen Sound Farmers' Market – Saturday's

Baker: Anita DeJong

Flavour: Raspberry White Chocolate

Shape: Trapezoid

Topping: no discernible topping, brushed with milk or egg wash

The first thing you notice with this scone is the golden crust, perfectly adorning the top, as though it was brushed with the setting sun. Delicately splitting the centre is a layer of raspberry preserve, fresh and bright. This scone is local and fresh in every meaning of the words. The flour comes from Parrish and Heimbecker in Hanover, the butter is Golden Dawn, and the Eby Manor Guernsey milk rounds out the local ingredient list. You can see the care and attention that goes into every crumb of this delectable treat.

On the first bite, you have met with the crunch of the outer crust a subtle sweetness, the tang from the raspberry preserves, and a hint of caramel which can only be attributed to the melted morsels of white chocolate that when met with heat provide those warm sweet and almost nutty flavour notes. The texture is that of a thousand layers of pastry like like the crust of the earth but melts the moment it meets your tongue. This scone would be perfect for breakfast or brunch paired with a lemon tea or a glass of prosecco. Serve with a dollop of whipped cream for a take on a strawberry shortcake for a dessert you and your guests won't forget.
Contest is now closed. Thank you to everyone who voted, winners will be annouced soon.
Full contest rules:
No purchase necessary but it's really good excuse to eat a bunch of scones!
1 vote per person so share the contest so other people vote too
Tag @RiverDistrict on social media so we get notified of your social media entry
Posts on social media must be set to public so we can see and share them
We reserve the right to use your shared pictures for promotional purposes once tagged (related to this contest only) if you would like to send a high resolution version please email riverdistrict@owensound.ca
You must include your contact information on the voting platform but it will only be used to contact you should you win the contest and not for any other purposes
Contest closes April 30th at 11:59 p.m.
Winners will be drawn and contacted May 2nd