Mother's Day Contest
Spring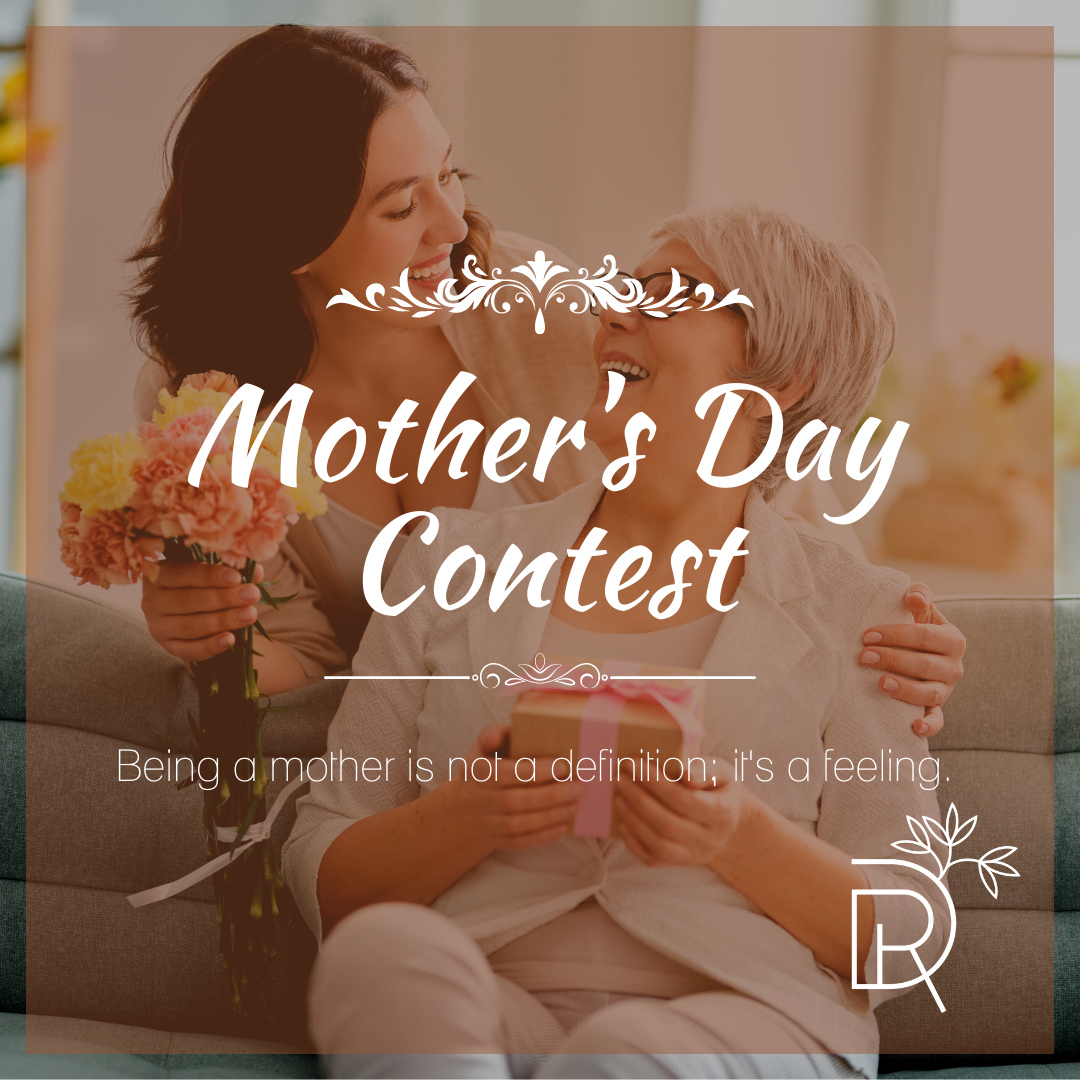 Would you like to win a gift package/experience from the River District for you and the person you celebrate Mother's Day with?
All you have to do to enter is create a social post on Facebook or Instagram where you include how you would spend your perfect day in the River District with that person
Every entry is a winner and will recieve a special gift from Georgian Bay Woodworking
Full contest details
You must tag @RiverDistrictOS to be included in the contest
Posts must be made on or before 11:59 p.m. on May 5
Each entry will be entered into a draw for the prize package
Winner will be announced on May 6
Stories and pictures will be added to the River District website and could be used for promotional purposes
"Mother" is anyone you would choose to celebrate on Mother's Day regardless of relation
Stories are hypothetical, perfect days and do not have to be based on experience but must take place in most part within the River District
400 word maximum
Photos should be included with entry but do not have to be recent. Pictures must include the person you are celebrating
Any stories deemed inappropriate in nature will not be included in the contest
Please ensure you like and/or follow the River District to receive updates on the contest
Entries can be sent in via email to riverdistrict@owensound.ca and will be put directly onto the River District social pages as part of the contest
No purchase necessary
For any questions, please reach out to riverdistrict@owensound.ca, please allow 48 hours for response.
Prizes (may be added)
Beginner Stained Glass Hummingbird class for 2 @ The Georgian Bay Centre for the Arts
$25 Gift Certificate to Heartwood Home
$50 River District Gift Certificate
$25 Gift Certificate to Sweetpea
$25 Foto Source Gift Card
$25 Riverside Yarns Gift Card
Free all day board game experience for the winner and up to 3 guests at Scenic City Games + "Spicy" card game
$25 Wild Flowers Consignment Gift Certificate
$25 barebirch Gift Certificate
$25 Becker Shoes Gift Certificate
$25 ProSport Fan Shop Gift Certificate
Sydenham Denture Clinic Prize Package
Personalized Charcuterie Board from Georgian Bay Woodworking
$25 Grey Gallery Gift Certificate
Salt Cave sesssion for 2 at Kokoro Wellness & Spiritual Hub
$25 Gift Certificate to The Pub
Spring Kitchen Clean by Essential Cleaning Co

Fronts of cupboards and drawers.
Outside of appliances.
Counter tops.
Sink.
Light fixtures.
Vacuuming and mopping.*

Extra task: Deep clean dishwasher. (Please, make sure it's empty on cleaning day).

*We bring all of our own natural, Canadian Made cleaning products. Including essential oil room spray, cleaning paste, window cleaner, wood cleaner, and all-purpose spray. (Unscented cleaning service options are available). You provide your own good working vacuum and mop.

$25 Pretty Woman 's Shoe & Swirls Gift Certificate
Larissa H & Shirley W
| | | |
| --- | --- | --- |
| | | I would love to spend the day with my mother in law for Mother's Day. Shirley has turned out to be one of my best friends and partner in crime (not real crime)😉😂 We have been on so many adventures together over the last 20 years from pushing 3 kids through the snow with the shopping cart full of groceries to navigating to London juggling around appointments or whether it just be at the trailer relaxing watching the kids play in the pool. We always seem to find an adventure somewhere it doesn't matter what we do or where we go it always ends up with us laughing because something always seems to go wrong but we figure it out together that's the best part. She has been with me throughout some of the most difficult times in my life and for that she will always have a special place in my heart 💖. I would love to spend all day going into all the beautiful shops in the River District with her just to enjoy each other's company. We could stop for lunch a one of the cafes for some much needed girl talk and then continue to shop till we drop... I love you Shirley. Happy mother's Day... |
Ang C & Shelley C
| | | |
| --- | --- | --- |
| | | My mom would love to enjoy the package of prizes and to spend time in the River District. Shelley C was the Owner and Operator of Awesome Blossoms 🌸 which had 2 different locations in its 15 years of business, in the 800-900 block of 2nd Avenue East. She has always been a dedicated Downtown community woman, even back in to the 80's when her Father (Doug MacDonald) owned and operated McDonald's Department Store. Shelley worked there before she started her Floral career with Downtown McDonald's Flower Shop for 25 plus years before going into business for herself. Unfortunately in 2019, Shelley became very very ill, spending weeks to months in the London Hospital. We ended up having to shut down the business as Shelley is now paralyzed from the waist down and in a wheelchair. I haven't been able to get Mom around too much Downtown, but She sure loves to go for a drive Downtown. She would enjoy going to some of the stores and it would be such a Wonderful and Special gift/opportunity. |
Carmen W & Kelly W
| | | |
| --- | --- | --- |
| | | I would spend the perfect day with my Mom, Kelly W in the Owen Sound River District by visiting the Palette Cafe to enjoy chai tea lattes, then we would visit the Kokoro Wellness and Spiritual Hub to try halotherapy! Then we would visit Heartwood Home to check out their vintage furniture! Lastly, we would take a walk down by the river! |
Elisa L
| | | |
| --- | --- | --- |
| | | A day with Mom - walking, talking, drinking tea and talking over a meal = Spending time together 🤍 |
Allison B & Brenda T
I would love to celebrate Mothers Day in the River district with my mom Brenda T! She is the most compassionate, amazing, selfless person I have ever met! She is always helping others out and never does anything for herself! She is always looking after the homeless and less fortunate downtown Owen sound and she volunteers her time teaching swimming for the special olympics!

I would take her for a relaxing time

Kokoro Wellness & Spiritual Hub

and for an amazing meal at any of the amazing restaurants!

My mom was also hit by a car last year and has suffered with a fractured skull and has had physio therapy to help her heal! Not once has she ever complained or asked for anything! She is truly an inspiration and my hero!!!!!
Andrea C
| | | |
| --- | --- | --- |
| | | I'm taking my mom to a cupcake decorating class for Mother's Day this year and will bring her to the River District after for a bite to eat and some window shopping 🥰🥰 |
Ginelle L & Lisa L
I would love to treat my mom, Lisa L to this amazing Mother's Day treat. With so many amazing prizes, she would love her day on the town with her number 1 daughter and I would love to see her get time to pamper herself.

My mom and I love to laugh, and would enjoy spending time shopping downtown while laughing as she touches the soft yarns at Riverside Yarns and the great clothes at Wild Flowers Consigmnent.
We'd make a stop at Sweetpea so that she could choose something sweet for the grandbaby she is looking forward to welcoming, and then would stop in at Becker's Shoes to find the perfect shoes for her youngest daughter's upcoming wedding.

Of course, we'd need to stop for a quick bite to eat, and would end our day off making a stained glass masterpiece together, and then a relaxing quiet visit to Kokoro.

I am sure my mom would wait and shop at Heartwood with my dad, he loves antiques and they'd have a great time there together.

My mom has been caring for my dad since he began chemotherapy and she also works full time. She is the glue in our family, and raised my sisters and I to be kind, caring, contributing community members, and we would be so glad to see her enjoy this special treat. With a grandbaby on the way, a pregnant daughter carrying for another couple, and a daughter getting married, mom is going to be even busier as fall comes closer, she will need this time for herself now!

I hope you'll choose my mom, it would make us so happy. The picture I've chosen is from our family walk for Alzheimer's last year. I chose this photo because Mom's smile is just shining, and we have great memories from a fun day together!
Alysha M & Sharon P
| | | |
| --- | --- | --- |
| | | I would love for my mom - Sharon P to win this River District Mother's Day Contest! My mom loves shopping downtown and supporting the local shops. Some of her favorites are Heartwood Home, Barebirch, Beckers and Sweetpea. However she always shops for everyone else - her kids, her grandkids, family and friends. I would love to take her downtown for her! A day of pampering and shopping just for her. Of course stop in at her go to shops but also experience some new ones like The Salt Cave, Wild Flower Consignment, Pretty Women and more! She always puts everyone else first and makes sure we are taken care of before herself. This great prize would allow me to take her down, guilt free and shop for HER for once! As a parent myself now I have come to love the downtown core for shopping for my family and that's thanks to my mom for taking me! |
Kristy P, Judy, Nanny & Domino
| | | |
| --- | --- | --- |
| | | For years my Nanny my mom and myself would go to a restaurant downtown on Mother's Day for lunch and a walk . My Mom Judy and I carry on this tradition . It would be amazing to go to the salt caves at Kokoro wellness with her I have been and I know she would like it . We also would stop in at heartwood and bare birch for a look around as well as maybe pick up a new pair of sandals at pretty women's shoe or beckers shoes . My mom has taught me so many things over the years but one that stands out is to never give up and live life to its fullest 😊. She is shown here with her grandbaby domino who she looks after everyday while I'm at work . |
Gwen T
| | | |
| --- | --- | --- |
| | | My mom is 87 and lives in the Rockwood Terrace nursing home in Durham. I would take her out for the day, bring her and my two sisters to our home in Owen Sound, and we would spend an afternoon in the River District. We would have lunch on a patio, enjoy ice cream and perhaps do some window shopping or pop into some stores, so I could get some ideas of things she would like. We would sit on a bench and enjoy the river. Mid afternoon hot chocolate might also be part of our day. 🙂 ❤️ |