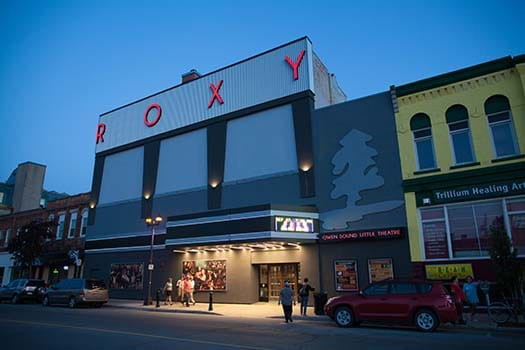 The Historic Roxy Theatre
Music, Arts & Entertainment, Tours & Attractions
The Roxy Theatre, owned and operated by the Owen Sound Little Theatre, is the premier regional destination for live theatre and music performances. Built circa 1913, this historic soft-seat opera house accommodates 400 people, and is located in Owen Sound's historic downtown core.
The Owen Sound Little Theatre is a not-for-profit charitable organization now celebrating its 60th year. The membership is comprised of hardworking volunteer members from very diverse backgrounds who produce four productions annually – a fall musical and three non-musical plays.
Owen Sound Little Theatre's mission is to be a quality theatre company that consistently entertains and challenges while stimulating participation in the arts through dynamic artistic and cultural programming with broad appeal. We engage a diverse regional population and offer numerous opportunities for the public to visit us at The Roxy, a permanent home for the Owen Sound Little Theatre and a vibrant regional centre for arts and culture.
In addition to Owen Sound Little Theatre productions, we offer The Roxy Series, a Professional Presenting Series showcasing the best in contemporary Canadian music, theatre and comedy, as well as a new Youth Program that includes workshops, camps and shows.
The Roxy is also regularly rented to concert promoters and artists throughout Ontario and numerous community groups for special events and recitals. You can read all about renting The Roxy here. If interested please contact the Executive Director at roxytheatre@roxytheatre.ca
The Roxy is air-conditioned, wheelchair accessible, and offers complimentary assisted-listening devices for clients. There is metered parking out front of the theatre on 9th Street East between 2nd and 3rd Avenues East, and there is a parking lot behind The Roxy (entrance off 3rd Avenue East) with free parking after 6 pm and on weekends.