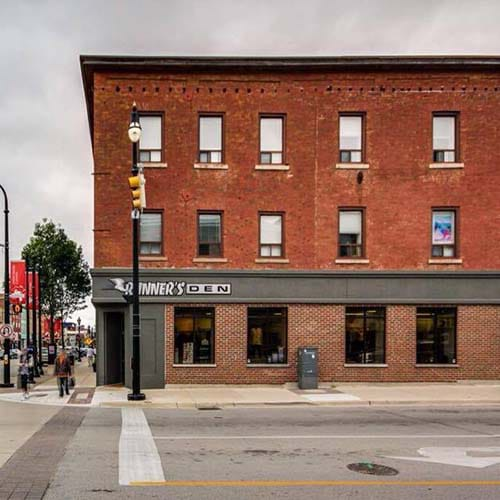 Runner's Den
Shops & Boutiques, Activewear, Apparel
Runner's Den was established in Hamilton in 1997 by Gord and Esther Pauls. They grew into a franchise when the Runner's Den in Paris, Ontario was established in 2000. Soon to follow were Owen Sound and Port Dover.
At runner's den, running is our passion. We want you to love running as much as we do! If you want to make running a part of your lifestyle, we have a learn to run clinic that will help get you there. If you are already an experienced runner looking to get faster… look no further than to one of our Intermediate or Advanced run clinics to help you reach your goals. We have helped many runner's over the past 10 years realize their goal of running The Boston Marathon.
It starts with an expert shoe fitting experience. We begin by measuring your foot on the Brannock device. We then assess your gait using several separate tests. We will discuss with you your background, your goals, your fitness level, and workout surfacing combining your feedback with our knowledge of the footwear styles to best offer you recommendations.