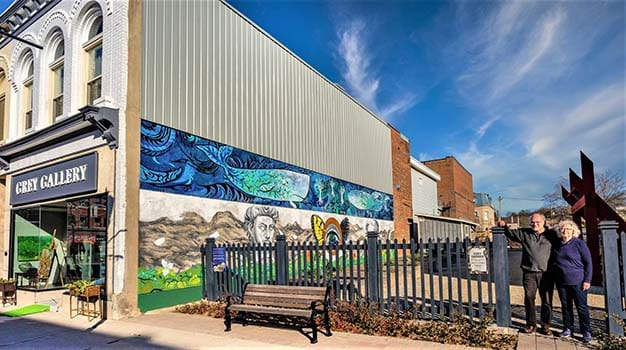 Grey Gallery
Galleries, Arts & Entertainment, Tours & Attractions
Grey Gallery was established in 2018, joining a vibrant arts community already flourishing in Owen Sound. Housed in the historic former Coates and Best building, just a few minutes walk from the farmer's market in the heart of downtown, Grey Gallery features original art in a variety of media. The owners, artist John Laughlin and curator/manager Anne Dondertman, live and work in the building and are committed to making the gallery and adjoining garden a hub for artists and art lovers. John Laughlin is a graduate of the Ontario College of Art, and for more than four decades his practice has revolved around figurative work, whether on paper, canvas, cardboard, clay, or wood.
Since its inception, Grey Gallery has formed strong ties to working artists in our community. In addition to showing work by John Laughlin, the gallery has welcomed guest artists in both solo and group exhibitions. Artists who have exhibited with us include Vera Dernovsek, Jean Francis, Lydia Knox, Jim Hong Louie, Bill McCann, Lorne Wagman, and Raquell Yang. The Gallery is always drawn to work that is 'out of the ordinary, art that embodies an artistic vision of the world that is unique, individual, provocative, challenging, and thoughtful.
Visit our website to access a virtual tour of the gallery and garden and view artist videos.